When you are doing online marketing, it is very important to be ready to take phone calls efficiently and effectively. If you're doing any business with Los Angeles SEO, Google ad words, and ads on sites such as Bing, Yahoo, and Facebook, you'll need to be ready to pick up that phone and handle calls properly. As an SEO company in Los Angeles, You must have somebody competent and educated to answer your phones so that you will have a higher rate of closing a sale. Does this person need to be a salesperson? No, not necessarily. That would be ideal, of course, but as long as you have someone who is knowledgeable about your services, then that will do the trick. The person taking your phone calls will serve as your company's gatekeeper. You can assign virtually any person with any job function who works in your office to take these calls. You can even have somebody who works from home from anywhere in the world perform this task for you. So long as they have the proper training, you can have just about anybody do this for you when you are unavailable.
Most of all, a good gatekeeper knows how to communicate clearly.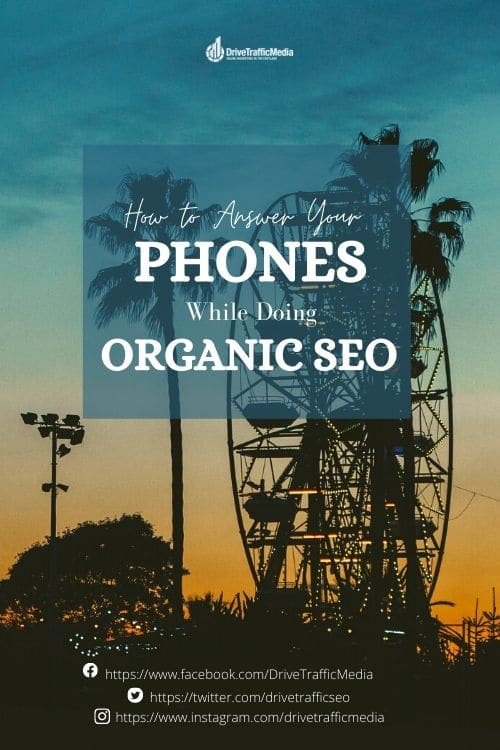 This person will need to ask the prospective client all of the important questions. They will be able to filter prospective clients versus cold callers who will inquire about establishing an unwanted partnership. The best way to get rid of these spam callers is to respond with "We are not interested right now. Can you please take us off your list?" They are legally obligated to hang up once you tell them this. Remember: cold calling and telemarketing is a business in which time is money, so if they keep pestering you for whatever reason, continue to state that you are not interested until they are forced to get the message. There will also be times when cold callers will use language that will make them sound like a customer, and this is when things get tricky. They will ultimately waste everybody's time once you find out they simply want to sell you something and nothing more. It is crucial to have somebody who is properly trained to catch language that is a dead giveaway that the other person on the line is a cold caller. If somebody calls your office and they are not specific about what exactly they want from you, a good tactic is to ask the person, "are you interested in our services?" or "are you an existing client?" A
Although some callers may come off as impolite or aggressive, it is important to always remain as level-headed as possible. Although we all make mistakes and have our off-days, unprofessional handling of phone calls can negatively impact your business. An interested lead may decide not to hire your agency because your employee was ill-equipped to handle phone calls. This can even lead to receiving negative reviews online on powerful websites such as Yelp and Google Reviews. While you cannot please everybody who you will deal with, you must be prepared to handle all sorts of difficult situations and people so that your business and your overall revenue do not crumble. 
There are several pieces of information you'll need to write down from that potential lead:
The client's phone number. They may want to be reached on a different phone number they are calling from, so always remember to ask "is this the best number to reach you?"
Email address.
Their website's URL. If they do not have their own website, you can also ask for their predominant social media page.
How they found your business.
The best times and dates to schedule a meeting with the lead.
Sometimes a potential lead will only feel comfortable sharing their most basic contact information with you, and this is generally okay. As long as you are able to get their full name and their phone number or email address, you can most likely work something out with just this information. However, it is better if you are able to find out what their available dates and times to schedule a meeting with them are. If a potential lead is rude to you or your staff, such as being aggressive about not getting immediate answers to questions the gatekeeper is not equipped to handle (e.g. prices of services which they do not specialize in) or hanging up abruptly, do not be afraid to turn them down as a customer. You do not want to work with an individual like this in the long run.
Why spam calls are not necessarily a terrible thing
How exactly do you know if your marketing is working when it has just started? You will get spam calls and cold callers. What? Let's explain what exactly this means: it's a simple fact if you hire any type of marketing, you're going to get more calls from people trying to sell you. This is the magic of online marketing. We call it "spam money" because eventually you're going to have enough calls and then people are going to call you that are going to be your potential and even the newest biggest customers. So as much as you and your staff hate annoying telemarketers, don't be afraid to pick up that phone and let it let that money roll into your bank! 
We don't do monkey business here
If you're ready for a truly game-changing online marketing and social media experience, please give Drive Traffic Media a call today at (310) 341-3939 or fill out the form on this website. We can help you get started to change your Internet presence for the better so that you can start getting new customers.
We can help your business thrive the right way in the 21st century. Our specialized Los Angeles SEO experts, project manager, web designer, copywriters, and social media management team are ready to help you starting today! So what are you waiting for? Learn how to do Internet marketing in the fast lane with us in 2022.