If you're looking to get more butts in your seats at your restaurant, then online marketing is definitely the avenue you want to take. Here at Drive Traffic Media, we break down Los Angeles SEO for you so that you can drive more traffic to your business' website and enjoy the benefits of more customers. So how exactly do we do this and how can you get started? We will gladly take you through this process and make it easy for you to understand.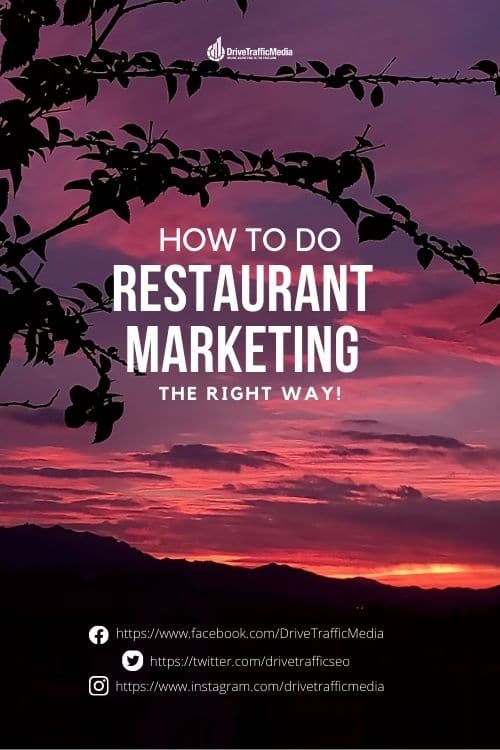 Firstly, as a professional digital marketing agency in Los Angeles, it is recommended to use Google Ads with listing marketing. During your first meeting with us, we will set up your Google Maps listing so that it can be found on a Google search. While it can take a long time for your business to be optimized in the top three spots, paying for these ads is still very crucial for your visibility. These clicks are not expensive. They are even more inexpensive than the actual Google SEO placement ads that are seen above the map listings. The wonderful thing about map listing marketing is that you can get a ranking in your local area with the surrounding area around your restaurant.
Getting ranked with the surrounding Los Angeles SEO rankings can be found on the map listing. It will serve your business greatly to be ranked really well in the local area because people in the area will want to eat somewhere fast if they are hungry. If you're paying for ads with Google Map listings, then you will show up even further out than the areas that you could actually get rankings for with the Google Map listing. You can even control the radius of how far you want your ad to be run. For example, if you have a unique restaurant that not a lot of people are looking for, let's say a Persian restaurant, "seafood restaurant" is a lot less searched than just "restaurants," so this helps if you have a larger radius for a restaurant dispatch more unique than a basic restaurant.
Organic SEO is also a very powerful tool in order to get your website ranking by creating great blogs with beautiful photos of your amazing food as well as your venue. You are going to need original pictures that were taken by a professional photographer. Photography is very important for your map listing marketing as well as your review site marketing. If you have images that are appealing, then you will bring in the customers that you are looking to bring in. It is also recommended to have these ads on the regular Google Adwords listings. There are very popular and very inexpensive restaurants taking all of these measures to promote their businesses – perhaps ones just like yours.
Restaurants rarely do marketing properly, and by this, they are missing out on a huge opportunity. Think of it this way: when you are spending about $10 to $50 to get a person to come to your restaurant and then they end up spending $60 to $200 for their experience – this is extremely profitable. Email and text messaging are the most important contact information to have. Make sure when they opt-in through your email they are getting authorization to text them. When you do your text messaging, be sure to include an opt-out option. It should always auto-respond when a customer decides to cancel.
Utilizing text messaging when you are looking to fill your seats is also a great move. When customers are not normally coming in, send them a text message and offer them a promotion. For example, send a message saying if they grab some dinner they will get a free appetizer or a discount off of your meal. This is a timely event that you can message people the day before or hours before your evening. Now, you might not know if this will bring in customers at that time, so you must have an open-ended message to send out. These should come in even if they can't come on that day so it is important to keep your restaurant in mind. While it is not guaranteed guests will come in after they receive that text message, what it does is it plants a seed in their brain that they will want to come back to your restaurant if they had a good experience before.
Another extremely important factor is email marketing. It is a good idea to obtain your customers' special dates such as their birthday or their wedding anniversary. These events are great because if you are bringing in a party for a birthday you could easily have 220 people come into your restaurant and that is obviously much better than a one-person dining experience. You should also offer something special to that party they can't resist, for instance:
Three free desserts if a guest brings in 10 people for a birthday dinner.
Two free appetizers if a guest brings a minimum of 10 people.
One free appetizer if a guest brings 2 other people.
In other words, there are many different ways to market this properly. Everyone loves to be featured as a celebration! Therefore, we highly recommend that Google Adwords email for your restaurant marketing campaign.
If looking to get started with your online marketing or improve your current online marketing, please give Drive Traffic Media a call today at (310) 341-3939 to get your restaurant rank to the moon and get your butts in those seats. With the help of proper implementation of Los Angeles SEO, you'll be able to book your days out, properly order your food, and properly order your staff, because no one wants to be sent home early (except that one employee that you wanted to fire….).